What is Transparent Plaque Treatment?
Transparent Aligner Treatment is one of the latest technologies used in orthodontic treatments. It is a wireless orthodontic treatment that uses transparent aligners, which are custom-made for each patient, to correct teeth. The primary reason for choosing Transparent Aligner Treatment is that while teeth are being corrected, it is not obvious to others that the patient is undergoing orthodontic treatment.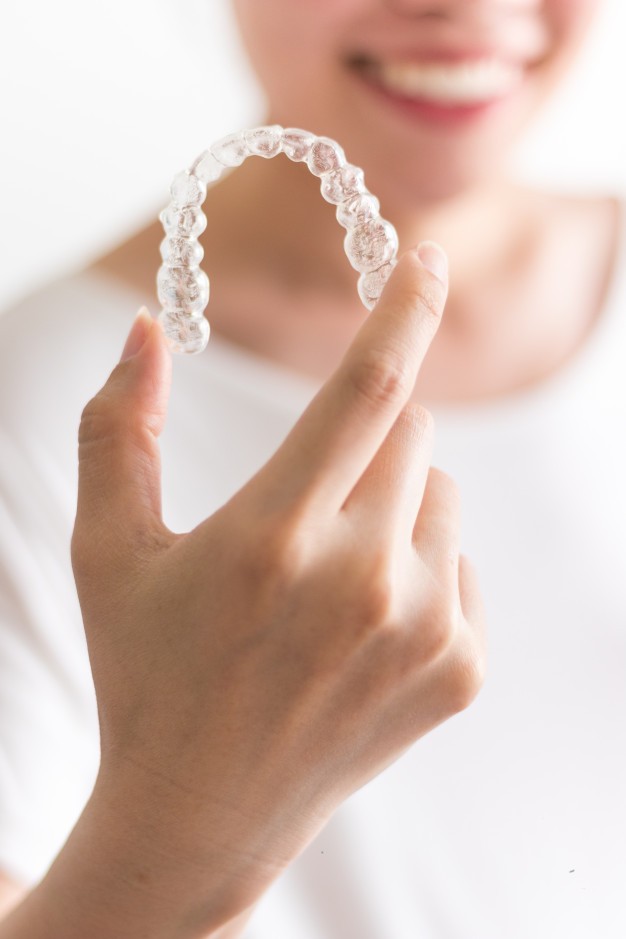 Transparent plaque treatment is a procedure that can be applied to adults, adolescents, and children. Your suitability for transparent plaque treatment can only be determined after an examination by your doctor. Mild to moderate tooth crowding can be corrected using this treatment, but it is not suitable for cases that require tooth extraction. However, with the advancements in technology, even extraction cases may be treated with transparent aligners in the future, although this is still under investigation.


To produce the transparent aligners, your dentist will take measurements of your mouth, which are then transferred to a computer using a 3D scanning method called CAD-CAM. The computer simulates the movement of teeth in a virtual environment, and clear aligners are produced to move the teeth gradually to their desired position. Each aligner typically moves the teeth by 0.5 mm to 1 mm. The aligners are worn for 15 days before being switched to the next one in the series. A slight pressure is applied to keep the teeth moving, which can cause some discomfort at first but this usually subsides over time.
Advantages of Transparent Plaque Treatment
There are several advantages of Transparent Plaque Treatment, including:
One of the most significant advantages is that it does not disrupt your daily life. Because the aligners are transparent and removable, you can go about your daily routine without feeling self-conscious.
You can smile and laugh as much as you want during the treatment process, as the aligners are invisible and custom-made to fit your teeth.
You can effortlessly remove the aligners while eating, drinking, or brushing your teeth, so you can enjoy your favorite foods without any restrictions.
Since the aligners are made of soft plastic, they are comfortable and gentle on your teeth and gums. There is no need for any metal brackets or wires that can cause discomfort.
The treatment is suitable for all age groups and can be easily customized to meet individual needs.
Frequently asked Questions
Does pain occur in Transparent Plaque treatment?
Yes, some discomfort or pain may occur during the initial stages of Transparent Plaque Treatment. As force is applied to the teeth to move them into the desired position, you may experience some soreness or pressure when you first start wearing the aligners. However, this pain usually subsides after a few days or weeks as your teeth adjust to the aligners. Once you have adapted to the aligners, you should be able to wear them comfortably without experiencing any significant discomfort or pain.


What is the frequency of controls in Transparent Plaque treatment?
In Transparent Plaque Treatment, check-ups are typically scheduled once a month. During these appointments, your dentist will monitor the progress of your treatment and provide you with two new sets of aligners to replace the old ones. The aligners are usually changed every 15 days to ensure that your teeth continue to move gradually into their desired position. By attending regular check-ups and changing your aligners as directed, you can ensure that your treatment progresses smoothly and efficiently.
How long does it take for transparent plates to attach?
Transparent plates should be worn for approximately 20 to 22 hours per day, with the aligners only being removed for eating and oral hygiene purposes. It is recommended that you wear the aligners for a minimum of 20 hours per day, but it is best to wear them as much as possible to achieve the best results. If you need to remove the aligners for any reason, such as for a special occasion or to play a musical instrument, you should aim to keep them out for no longer than 1-2 hours at a time to ensure that your treatment progresses on schedule. It is important to follow your dentist's instructions on how long to wear the aligners each day to ensure that your treatment is effective and achieves the desired outcome.
Is it necessary to remove transparent plates while drinking?
It is not necessary to remove transparent plates while drinking cool or room temperature beverages, such as water or juice. However, it is recommended to remove them when drinking hot beverages such as coffee or tea, as the high temperature can cause the aligners to deform or lose their shape. This is because the aligners are made of thermoplastic material, which can be sensitive to high temperatures. If the aligners become deformed or damaged, they may not fit properly and may need to be replaced, which can delay your treatment progress. To prevent any damage to the aligners, it is best to remove them before consuming hot drinks and follow your dentist's instructions on how to properly care for and maintain them.
Will other people notice its transparent plaques in the mouth?
In general, other people are unlikely to notice that you are wearing transparent plates while undergoing treatment, especially if they are not looking closely at your mouth. The aligners are designed to be clear and virtually invisible, so they blend in with the natural color of your teeth. However, if someone does happen to notice the aligners, they may appear as a very thin, clear film on the surface of your teeth. Many patients who wear transparent plates report that their friends and colleagues were unaware of the aligners until they mentioned them, or until they removed them while eating. It is important to remember that everyone's experience may vary depending on factors such as the position of the teeth and the individual's overall appearance, but in general, transparent plaque treatment is considered to be a very discreet and unobtrusive way to achieve a straighter, healthier smile.
Does Transparent Plaque treatment affect speech?
It is common to experience some minor speech difficulties during the first few days of wearing transparent plates, as your mouth adjusts to the new aligners in your mouth. This is because the aligners are custom-made to fit snugly over your teeth and may initially feel slightly bulky or uncomfortable. However, as you continue to wear the aligners, your mouth will become accustomed to them and any speech difficulties should resolve on their own. Most patients find that any speech difficulties are minor and do not significantly impact their ability to communicate effectively. In rare cases, patients may experience persistent speech difficulties, and in such cases, it is recommended that you speak with your dentist to discuss possible solutions. Additionally, if you have an important speech or presentation to give, you may remove the aligners for a short time, but it is important to remember to put them back in as soon as possible to ensure that your treatment progresses on schedule.
How to care for transparent plates?
Cleaning your transparent plates is an important part of maintaining good oral hygiene during your treatment. Here are some tips for caring for your aligners:
Remove your aligners before eating or drinking anything other than water. This helps to prevent staining and damage to the aligners.
Clean your aligners twice a day using warm water and a soft-bristled toothbrush. Gently brush the aligners to remove any food particles or debris that may have accumulated on them.
Avoid using toothpaste or other abrasive cleaners on your aligners, as they can scratch the surface of the plastic and make them more visible.
Store your aligners in a clean, dry place when not in use. You may also want to invest in a special storage case to keep them safe and protected.
Avoid exposing your aligners to high temperatures or prolonged sunlight, as this can cause them to warp or become discolored.
Schedule regular check-ups with your dentist to ensure that your treatment is progressing as planned, and to address any concerns or issues you may have.
By following these simple tips, you can keep your transparent plates clean and well-maintained, ensuring that your treatment progresses smoothly and efficiently.


Does smoking turn transparent plaques yellow?
Smoking can cause staining and discoloration of teeth, and this can also affect transparent plaques used in orthodontic treatment. The degree of yellowing may vary depending on the frequency and amount of smoking, as well as other factors such as oral hygiene habits and diet. However, because the transparent plaques are changed every two weeks, any discoloration caused by smoking would likely be minimal and not noticeable to others. It is still important to maintain good oral hygiene and avoid smoking or other habits that can cause staining of teeth and aligners.
Is the treatment shorter with normal braces or with Clear Plaque?
The duration of orthodontic treatment, whether with traditional braces or clear plaques, depends on various factors such as the severity of the orthodontic problem, age, oral hygiene, and patient compliance. In general, transparent plaque treatment can take a shorter time than traditional braces for mild to moderate orthodontic cases since it uses computer technology to move teeth only in specific areas and does not require adjustments or wire changes. However, more complex cases may still require traditional braces or other orthodontic treatments. Ultimately, the length of treatment can vary from patient to patient, and it is best to consult with an orthodontist to determine the most appropriate treatment option and expected duration for your specific case.


Can I start Transparent Plaque treatment right away?
Before starting Transparent Plaque treatment, you will need to consult with an orthodontist who will evaluate your oral health and orthodontic needs. They will perform a comprehensive examination, which may include taking intraoral and extraoral photos, x-rays, and 3D digital measurements using an intraoral digital scanner. Based on this information, the orthodontist will create a personalized 3D digital treatment plan and determine if Transparent Plaque treatment is appropriate for you.


If you are deemed a suitable candidate for Transparent Plaque treatment, the orthodontist will then take impressions of your teeth and use them to create a series of custom-made transparent aligners that will gradually move your teeth into their desired positions. The aligners are typically produced within a few days and you can start the treatment shortly after receiving them. However, it is important to note that the exact timeline for starting treatment can vary depending on the individual case and the orthodontist's schedule.
Is it necessary to make a preparation before Transparent Plaque treatment?
Yes, it is necessary to prepare the teeth and the mouth before starting Transparent Plaque treatment. Proper oral hygiene, including cleaning of decayed teeth and removal of tartar, is important to ensure the success of the treatment. Additionally, your doctor will evaluate your teeth and determine if any extractions are needed prior to starting the treatment. It is important to follow your doctor's recommendations and instructions to ensure that your treatment is effective and safe.


Is any action taken after the Transparent Plaque treatment is finished?
Yes, after completing the Transparent Plaque treatment, a retainer is usually recommended to prevent teeth from shifting back to their previous position. The retainer can be either fixed or removable, depending on the recommendation of the orthodontist. The duration of the retainer usage may vary depending on the individual case, but it is usually recommended to wear it for a certain period of time to ensure the stability of the teeth in their new position.


Do Transparent Plate Aligners contain Bisphenol-A used in plastic material manufacturing?
That's correct. Transparent plate aligners are made of a thermoplastic material called polyurethane, which does not contain Bisphenol-A or phthalates. Therefore, they are safe to use without any risk of harmful health effects.