What is Transparent Plaque Treatment?
Transparent Plaque Treatment is one of the latest technologies in orthodontic treatments. It is a wireless orthodontic treatment applied to correct the teeth with transparent plaques (aligners) specially made for the patient. The most important reason for choosing Transparent Plaque is that while the perplexity of the teeth is corrected, no one will understand that you are receiving orthodontic treatment.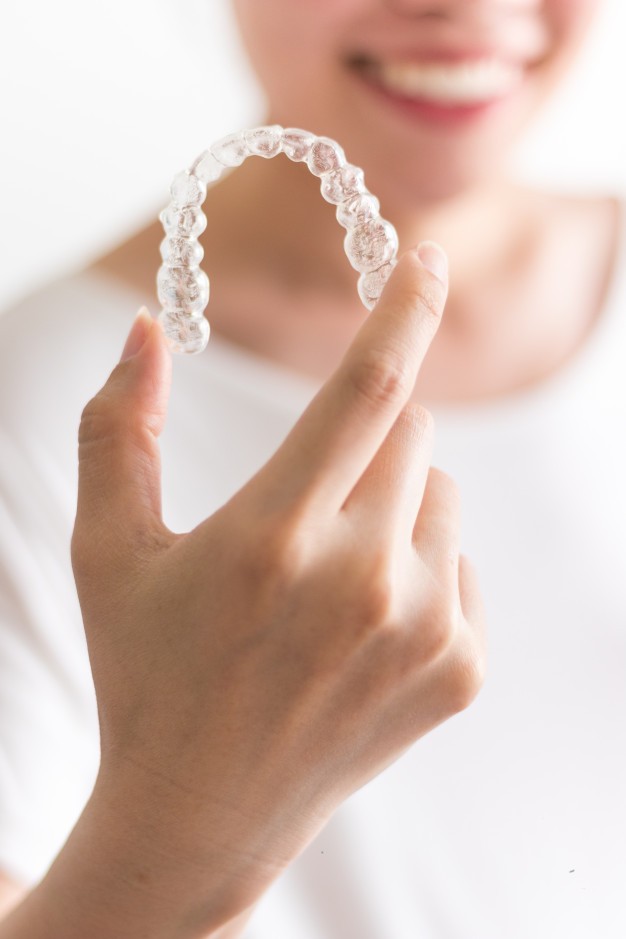 Transparent plaque treatment is a treatment that can be applied to adults, adolescents and children. Your ability to undergo transparent plaque treatment is only confirmed after your doctor's examination. Moderate and light tooth crowding can be removed with clear plaque treatment. An orthodontic treatment that requires tooth extraction cannot be treated with transparent plaque. With the development of technology, extractive treatments will also be treated with transparent plates. This treatment is still being studied.
Your dentist will measure your mouth to produce transparent plaques. These measurements are transferred to the computer environment with the 3D scanning method called CAD-CAM system. The teeth transferred to the virtual environment are moved by computer simulation. Transparent plates are produced serially according to the position where the teeth are desired to move. Each plate creates 0.5 mm or 1 mm of movement. Plates are placed for 15 days and then switched to the other plate. Force is applied to keep the teeth moving. For this reason, it creates domination when wearing transparent plates. This pain, which is felt when the teeth are first inserted, does not continue after a certain period of time.
Advantages of Transparent Plaque Treatment
- Its most important advantage is that it does not adversely affect your daily life.
- You can laugh as you wish during the treatment process, as it is invisible and specially produced for you, consisting of removable serial aligners.
- While drinking, eating or brushing your teeth, you can effortlessly remove your plaques and eat whatever food you want.
- Since the treatment consists of soft plaques and metal, nothing will disturb your teeth and gums.
- It can be easily applied to all age groups.
Frequently asked Questions
Does pain occur in Transparent Plaque treatment?
Force is applied to keep the teeth moving, so it creates dominance when wearing transparent plates. This pain, which is felt when the teeth are first inserted, does not occur when adaptation is achieved after a certain period of time.
What is the frequency of controls in Transparent Plaque treatment?
You will have check-ups once a month. You will receive 2 new transparent plates each time you check. These plates are changed every 15 days.
How long does it take for transparent plates to attach?
Transparent plates must be worn for approximately 20 hours a day, and must be removed only while eating. You can remove it for 1 or 2 hours at most.
Is it necessary to remove transparent plates while drinking?
You can drink cool drinks at normal temperature. However, it must be removed when using hot drinks such as coffee. Transparent plates can be deformed in heat because they are thermoplastic.
Will other people notice its transparent plaques in the mouth?
Patients who were treated stated that no one noticed the plaque in their mouths unless they told them so. When many patients removed the plaque while eating, their friends said, "Was there something in their mouth?"
Does Transparent Plaque treatment affect speech?
You may experience some trouble while getting used to the first days, then there will be no problem. When you give a speech that will take a long time, you can take it off for a short time.
How to care for transparent plates?
It is cleaned twice a day with warm water with the help of a toothbrush.
Does smoking turn transparent plaques yellow?
A person who smokes a lot will have yellowing teeth compared to someone who never smokes. Of course, there will be no excessive yellowing since you will change it only every 2 weeks.
Is the treatment shorter with normal braces or with Clear Plaque?
The duration of treatment depends on the case. Since computer technology is used, no force is applied to the area where movement is not desired in transparent plate treatment. Since it is used for mild and moderate crowding, the duration of clear plate treatment may be shorter than normal orthodontic treatment. Patients who receive transparent plaque therapy do not have any concerns about the duration of the treatment.


Can I start Transparent Plaque treatment right away?
Your intraoral and extraoral photos, x-rays and your 3-dimensional digital measurement taken with an intraoral digital scanner (cad-cam) are transferred with a single button. 3D digital treatment plan is created by Orthodontics Specialists within 3-4 days. In this invisible system consisting of removable series of aligners, each aligner is specially produced for your teeth.


Is it necessary to make a preparation before Transparent Plaque treatment?
Before the treatment, it is essential to perform oral care and clean all your decayed teeth and tartar. Depending on your situation, your doctor will tell you whether your 20-year-old teeth can be extracted without clear plaque treatment. Then the measurement is taken and the construction is started.


Is any action taken after the Transparent Plaque treatment is finished?
It is valid for all orthodontic treatments. After your treatment, very thin wires that are not visible from the outside are attached to the inside of the teeth. These wires are attached in order to prevent the movement or return of the teeth. Your orthodontist determines the duration of these wires.


Do Transparent Plate Aligners contain Bisphenol-A used in plastic material manufacturing?
Transparent plate aligners do not contain Bisphenol-A or phthalates (phthalates), which are used in baby bottles and plastic bottles, which are banned by the USA, Canada and the European Union due to many health problems. Therefore, you can safely have clear plaque treatment in any period of your life, including pregnancy and lactation.